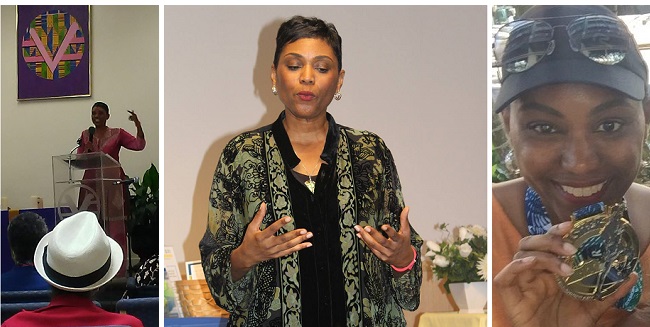 .
Rai's passion for visioning is infectious! Her work as a visioning teacher, facilitator and spiritual practitioner is highly regarded and recognized. For two decades, she has been creating sacred space for people from all walks of life to learn and practice meditation, affirmative prayer and visioning.
.
It All Started in the Living Room...
.
Rai's mission is to touch the lives of those who are meant to touch many, to inspire them to become who they came here to be, and do what they came here to do.
.
Rai facilitated her first visioning session in 1999 and her first visioning workshop in her living room in 2002, and she's been supporting individuals and groups from all walks of life, faiths and traditions with visioning ever since.
.
This year Rai celebrates 22 years as a licensed spiritual practitioner, 18 of those with a full-time teaching and healing practice. She is the author of "The Visioning Guide: A User's Guide for Igniting Your Life with Visioning."
.
She is the author of "The Visioning Guide," "The Vision Manifestation Kit," and "Prayers & Meditations for the Journey."
.
Global Transformation Through Personal Transformation
.
As Founder and Spiritual Director of Higher Vision Institute, Rai offers a comprehensive support program for individuals and groups to use visioning as a pathway for personal and global transformation.
.
---
.
"We are being called into greatness, and that can seem to be a pretty tall order. The truth is… it isn't. The ability to create this kind of shift during our lifetime is inherent in those living here and now. It dwells within us all; it lives within you. You can use it to transform your life. Together, we can use it to transform the world."
.
~ Rai Jordan, Our Founder & Spiritual Director
.
---
.
It is from this desire, commitment and vision that Higher Vision Institute was born in 2007. We are proud to be a Centers for Spiritual Living affiliated community.
.
Leaders, Healers, Educators, Activists, Entrepreneurs, Artists, Retirees (and Those Who Aspire to Be)
.
Once a successful yet unfulfilled member of the corporate & non-profit worlds, Rai charted a new course for her life using this evolutionary spiritual practice. She credits visioning with providing her with the guidance, inspiration and courage to turn a good life into a great one.
.
Rai specializes in supporting leaders, healers, educators, activists, entrepreneurs, artists, retirees (and those who aspire to be) with navigating through times of transition, quantum growth and change with visioning.
.
She facilitates visioning sessions, workshops and trainings for spiritual communities, corporate and non-profit organizations, advisory teams, boards of directors, and community groups; couples, families, children and young adults; and audiences from 10 to 300..
..
Spiritual Support for Spiritual Leaders & Communities
.
Just as an individual engages in spiritual practices, Rai is a passionate champion for spiritual organizations actively engaging in spiritual practices as a community too.
.
Rai's extensive visioning experience includes 6 years serving as Vision Core Coordinator of United Centers for Spiritual Living and 7 years as Visioning Team Chair for Centers for Spiritual Living.
.
During her tenure, she led each organization's visioning teams; facilitated visioning sessions for various committees, leadership and staff; trained vision team members and regional visioning facilitators throughout the US and abroad; and hosted and facilitated regional visioning workshops. Rai also developed and taught a graduate course on visioning at Holmes Institute School of Spiritual Leadership.
.
After more than 15 years of dedicated service and leadership, Rai received the 2020 Practitioner Meritorious Award from Centers for Spiritual Living for supporting the organization and its predecessor organizations with visioning.
.
Rai continues to provide spiritual support to spiritual leaders and communities. She is a popular keynote speaker and shares her signature talks and workshops at annual conferences, retreats, colloquiums, and Sunday services. And she mentors spiritual leaders licensed practitioners and prayer chaplains through her private practice.
.
Education, Mentoring & Training
.
Rai graduated from the University of California, Berkeley with a degree in psychology. She completed her training and licensing in spiritual healing and counseling through Centers for Spiritual Living under the guidance of her beloved teacher Rev Dr Elouise Oliver in 1998.
.
That same year, Rai's passion for visioning was ignited when she attended a visioning workshop with Rev Joan Steadman. Rev Joan was a founding member of Rev Michael Beckwith's Agape International Spiritual Center. Agape is the birthplace of visioning and Rev Joan was part of that first group that met regularly in Rev Michael's living room to birth Agape through visioning.
.
Rai affectionately calls Rev Joan "my visioning teacher"; in appreciation for the formal training, guidance and support she has provided over the years. It was Rev. Joan's commitment to staying true to Rev Michael's core visioning principles in practice, facilitating and teaching that has inspired Rai to do the same.
.
Last year Rai was honored with the professional designation of "practitioner emeritus" from Centers for Spiritual Living in recognition of 20-plus years of service.
.
Personal Life & What's Next
.
Rai resides in the beautiful San Francisco Bay Area island city of Alameda. An avid fitness walker and raw vegan, Rai completed the Cloverdale Half Marathon and the Honolulu Marathon in 2016.
.
Rai is training to complete her second marathon in 2022 with a goal of cutting her finish time in half. And she is enthusiastically working on two new books!